Product Details, what are EnergySavr Window Inserts?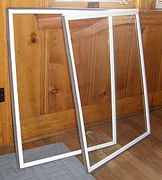 EnergySavrtm Window Inserts are a unique patented window insulation system. EnergySavrtm Window Inserts are clear, very light weight, and robust. You can insert and remove your EnergySavrtm Window Inserts in seconds from the inside of your existing windows. Because they insert inside your existing windows with a tight seal to stop air infiltration, EnergySavrtm Window Inserts are much more efficient than storm windows. And most importantly EnergySavrtm Window Inserts guarantee the immediate level of comfort and lower energy bills as modern replacement windows at a fraction of the cost.




Product details & how they work:


EnergySavr Window Inserts are custom made to fit your existing window frames using a compression fit without additional hardware or fasteners.

EnergySavr Window Inserts are an industrial strength optical grade polyvinyl film on a white or brown aluminum frame. A foam weather stripping gasket around the frame compresses as they are pushed into place, creating a sealed pocket of insulating air. Due to the compression, the inserts stay in place with no extra hardware in most cases. They are really easy to install and remove, simply push in or pull out, so opening the windows is not difficult.

Insulation wise, you get the most benefit from the initial sealed air pocket our product provides. Based on tests of similar products, adding an interior storm window insert is similar to adding another glass pane's worth of R-Value, doubling a single pane or sealing and adding another level of R -Value to an existing dual pane window. They really work great on older dual pane and single pane windows at stopping leaks. Much of our business is insulating existing dual pane or single pane windows that just need a little help.

The product works great on single or double pane windows made of wood, metal or vinyl.

EnergySavrtm Window Inserts are designed to fit tightly inside your existing window frame virtually eliminating air infiltration and significantly increasing the insulation value of your existing windows. We custom fabricate each panel at our store to fit the exact dimensions of your windows ensuring a proper fit for each and every window.


EnergySavrtm Window Inserts offer the following features and benefits:

Your house or building is warmer in the winter and cooler in the summer
Energy savings
Helps stop drafts, dust, dirt, pollen & forest fire smoke
Lightweight but sturdy construction with installation and removal in seconds
Maintain the exterior appearance of your home
EnergySavrtm Window Inserts's patented window insulation system consists of a well-built aluminum frame with vinyl glazing that mounts on the indoor side of your existing windows or sliding doors. Weather stripping seals the window to eliminate drafts and create a thermal barrier.
Our vinyl glazing offers many advantages over glass:
stronger
lighter
better insulation
less expensive
How do you install EnergySavrtm Window Inserts?
EnergySavrtm Window Inserts install and remove in seconds! They are designed to fit inside you existing windows with a compression fit. You literally can pop in and pop out your EnergySavrtm Window Inserts as you desire. This enables you to quickly remove the panels from windows if you want fresh air when the weather is nice outside and quickly reinsert them afterwards. The panels are very lightweight enabling anyone to handle them.